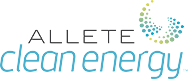 ---
ALLETE Clean Energy specializes in developing, acquiring and managing clean and renewable energy projects.
We seek opportunities to develop or acquire mid-size capital projects for electric utilities, cooperatives, municipalities, independent power marketers and large end users across North America. We're open to all types of business relationships including joint ventures and projects fully owned by ALLETE Clean Energy or our customers.
A comprehensive pathway for moving the rich and varied energy resources of North Dakota is the idea behind the ALLETE Energy Corridor. ALLETE Clean Energy is moving forward with plans to develop the concept which would provide for the movement of natural gas, petroleum products, water and wastewater, wind energy and future sequestered carbon.
The backbone of the energy corridor is an existing 465-mile path that contains a direct current transmission line running between Center, N.D., and Duluth, Minn. The energy corridor may parallel adjacent right of way along this existing path, as well as some 60 miles west to the Bakken shale oil fields. Various lengths of the corridor could be used for different purposes. An early focus for the corridor is to capture, transport and market the natural gas now being flared at hundreds of shale oil wells across North Dakota.
Press Release: ALLETE announces corridor 9/25/13
Map
The ALLETE Clean Energy Advantage
A wholly owned subsidiary of ALLETE Inc., a company with a solid history of successfully diversifying corporate resources
Capital access and strong balance sheet
Access to strategic assets, including a transmission line to transfer valuable wind energy eastward from North Dakota
Experience in forming strategic partnerships to meet technology opportunities
Deep understanding of energy markets, infrastructure operations and customer needs
Ability to anticipate and adapt to industry, political and environmental changes
Nimble, creative and experienced team
Strategically located in the renewable resource-rich Midwest, with corporate offices in Duluth, Minnesota
Read this Fact Sheet to learn about partnering on a clean energy project.
In the News: More Wind Power for North Dakota (May/June 2016)
Press Release: ALLETE launches new company to target clean energy marketplace
Contact:

218-355-3232
855-535-9090
30 W Superior St, Suite #200
Duluth, MN 55802